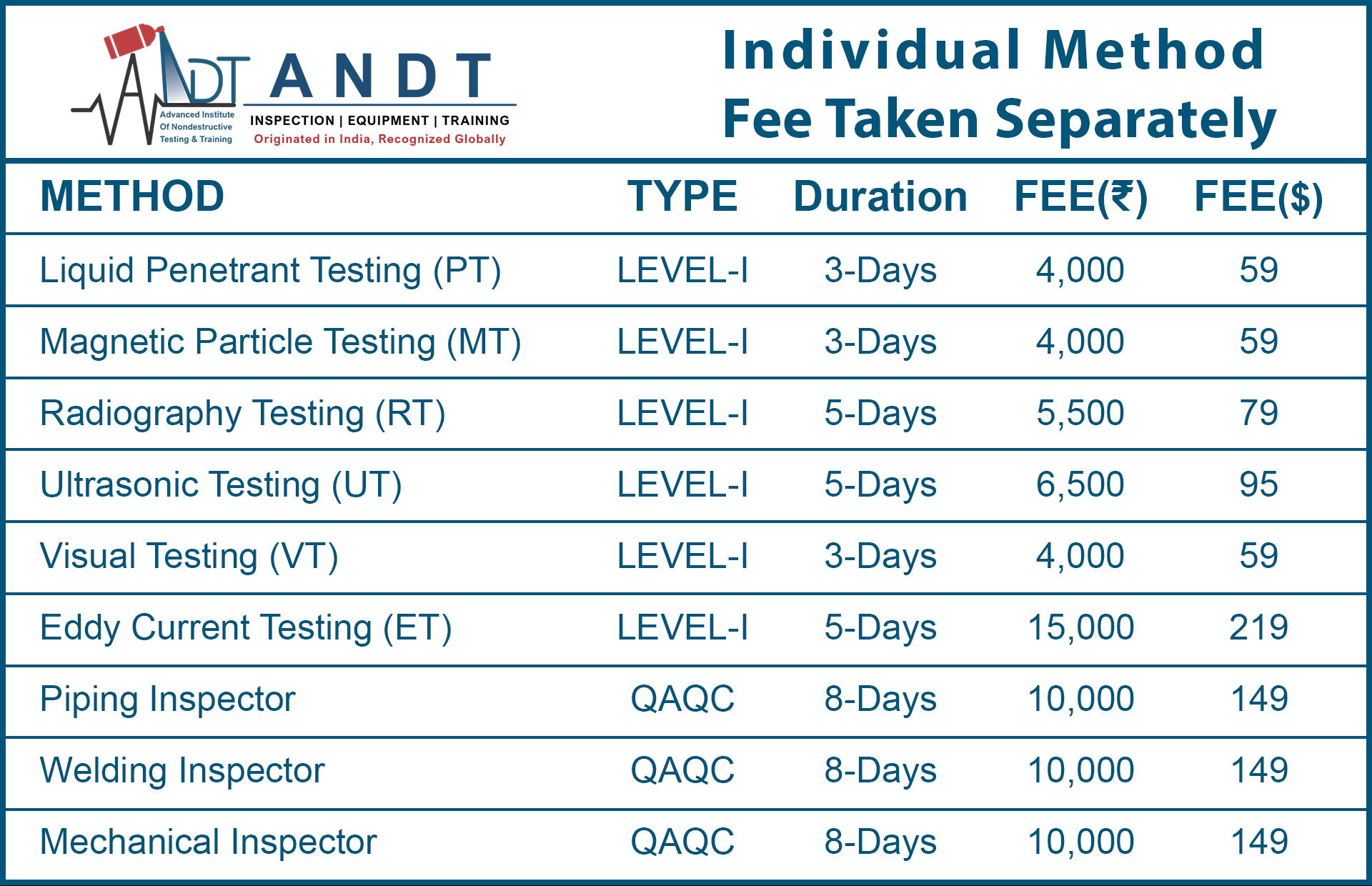 NDT Level I Course Fee and Duration
"NDT Courses from AMERICAN SOCIETY OF NONDESTRUCTIVE TESTING (ASNT)

DISCOUNTED FEE STRUCTURE
NDT Level 1 (MT, UT & PT): INR 12,000 (Duration: 15 Days)
NDT Level 1 (MT, UT, RT & PT): INR 14,500 (Duration: 20 Days) Normal Package
NDT Level 1 (MT,UT,RT,PT & VT): INR 16,000 (Duration: 25 Days) Basic Package
NDT Level 1 (MT, UT,RT,PT,VT & ET): INR 32,000 (Duration: 30 Days)
QA/QC (Piping Inspector): INR 10,000 (Duration: 8 Days)
QA/QC (Welding Inspector): INR 10,000 (Duration: 8 Days)
QA/QC (Mechanical Inspector): INR 10,000 (Duration: 8 Days)
QAQC(Weld,Piping & Mech): 18,000 (Duration: 24 Days)
QAQC(Weld,Piping & Mech) + NDT Level 1 (MT UT RT PT VT): INR 30,000 (Duration: 45 Days) Most Popular Package

Online Classes Available
Branches- Greater Noida, Mumbai, Hyderabad, Visakhapatnam, Nigeria & Spain.

ANDT Greater Noida: Google Map
7th floor, Om Tower-1, Near Alpha-I Metro Station, Commercial Belt, Greater Noida, Delhi/NCR, Pin - 201308
ANDT Mumbai: Google Map
A-107, Neptune Mall, LBS Rd, near Railway Station Bhandup, Mumbai, Maharashtra 400078

ANDT Hyderabad: Google Map
ANDT, 59/A, 1st Floor, Road no 1, Near KPHB Colony Metro Station, Hyderabad.
ANDT Visakhapatnam: Google Map
ANDT, Office No 2, Floor No 2 Naidu Complex, Kurmannapalem, Visakhapatnam
Greater Noida Hostel: 2500 / Month (Accommodation)
Mumbai Hostel: 4000 / Month (Accommodation)
Hyderabad Hostel: 5000 / Month (Food + Accommodation)
Visakhapatnam Hostel: 4500 / Month (Food + Accommodation)
FAQ- Frequently Asked Questions
Does ANDT provide 100% Job after level 1 the Course?
Yes, fresher participants get job after completion of the course, salary offered is as per industrial norms and job location may be anywhere across India. One Student, One Job offer is our Policy for Placement. Candidate doing "Basic Package, QAQC Course & Most Popular Package are only eligible for placement.
Is there any possibility of a further discount?
The discounted price mention is fixed and it is not refundable.
When the class will start?
Online theory classes or Classroom training will start after submission of 100% fee which is non-transferable and non-refundable. Hands-on practical experience can be done in-branch office (Greater Noida, Mumbai, Visakhapatnam & Hyderabad). We will provide practical demonstrations online if the student is unable to attend offline practicals.
What is the fee payment mode?
The fee can be submitted in the company bank account or in cash with 18% GST extra. Amount paid is not refundable or transferable.
What is the duration of the course?
26 days for basic 4 NDT methods
45 days for Most Popular Package

For any other information call on helpline number +91-8285063764