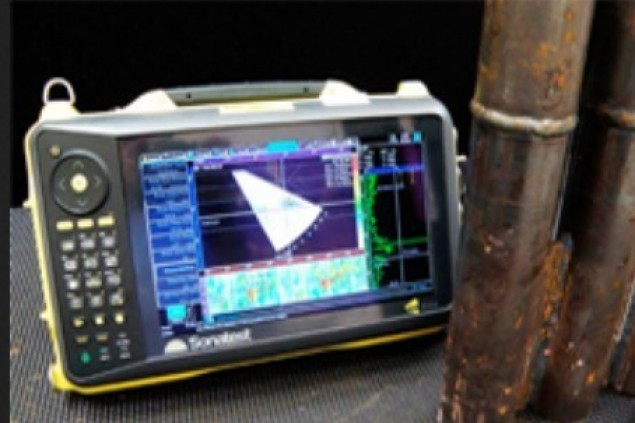 Phased Array Ultrasonic Testing
Phased array ultrasonic testing (PAUT) can be used for multitude of tasks. Today in assessment of structures, flaws, fitness for use of the product or equipment and assessment of critical parts require flaw data regarding to location shape and size of the defect. PAUT can provide an accurate assessment of defect and material fracture analysis based on the acceptance standards.
PAUT is used to detect defects that cant be easily detected using conventional volumetric methods such as radiography and manual ultrasonic testing. ANDT specializes in providing PAUT support in petrochemical industries, oil and gas, power, chemical industries. This method also finds applications in pressure vessels and structural welded components providing high standard of quality assurance, when time-restricted inspections are necessary.
A PAUT probe is made up of multiple small ultrasonic probes which can be fired individually. By varying the time of the pulse of each probe ultrasonic rays can be steered into various angles and focal distances. Therefore wave can be swept across the material and thereby covering the object.
Know more about the upcoming training schedule, by clicking here.
Applications for PAUT:
Inspection of forging or casting materials
Weld inspection
Corrosion mapping
Scanning complex geometry
PAUT can detect:
Weld defects such as lack of fusion, slag inclusions, porosity, cracks, cracks lack of penetration.
Erosion or corrosion.
Inherent discontinuities due to the manufacturing process used.
Environmentally damage.
Check NDT Level 1 and Level 2 Fee Structure, by clicking here.
PAUT has several advantages in comparison to other NDT. Information received can be displayed in a variety of formats like A, B, C scans for reliable and faster inspections. This data can be stored and reviewed later as the need arises. With PAUT shutdown requirement is eliminated hence effect on product is minimal.

ANDT's PAUT inspectors are highly qualified, holding a minimum of ASNT (American Society of Non-destructive Testing) Level II. Our inspectors are highly qualified to inspect tubes such as condensers, AC tubes, heat exchangers that require special equipment and highly skilled inspectors. ANDT Inspectors are more than capable of running such tasks while the highest level of consumer satisfaction.
​Codes and Standards used in Industry, by clicking here.
ANDT- Centre of Excellence in Inspection, Equipment, and Training
ANDT has 1000+ satisfied professionals and Clients in manufacturing, processing, in-service NDT inspection of nuclear, aerospace NDT, automobile components, castings, forgings, Welds, fabrication of structures, oil & gas exploration companies, petroleum refineries, shipbuilding, cross country pipeline constructions, NDT TRAINING INSTITUTES for NDT Techniques in India and abroad. 'ANDT' is in top NDT Institutes in India for NDT Courses in Delhi NCR, NDT Courses in Greater Noida, NDT Courses in Mumbai, NDT Courses in Hyderabad, NDT Courses in Bengaluru, NDT Course in India and is recognized globally for its quality integrity services with technology-driven resources.
Our Certified Engineers & Imminent Clients are from-
In INDIA:- Maharashtra: Nagpur, Nashik, Thane, Washim, Pune, Ahmednagar, Solapur, Amravathi, Mumbai, Aurangabad, Kolhapur, Navi Mumbai, Dhule, Chandrapur, etc. Gujarat: Morbi, Porbandar, Surat, Godhra, Veraval, Gandhidham, Ahmedabad, Anand, Jamnagar, Vadodara, Navsari, Rajkot, Bhavnagar, Nadiad, Botad, Bharuch, Ankleshwar, etc. Madhya Pradesh: Singrauli, Morena, Burhanpur, Ratlam, Bhind, Sagar, Guna, Dewas, Satna, Jabalpur, Bhopal, Indore, Gwalior, Rewa, Shivpuri, Ujjain, Khandwa, Vidisha, Murwara, Chhindwara, etc. Andhra Pradesh: Guntur, Nellore, Chittoor, Rajahmundry, Anantapur, Kurnool, Khammam, Ongole, Proddatur, Adoni, Kadapa, Mahbubnagar, Tirupati, Karimnagar, Ramagundam, Warangal, Hyderabad, Madanapalle, Eluru, Vijayawada, Telangana, Visakhapatnam, etc. Uttarakhand: Bageshwar, Tehri-Garhwal, Roorkee, Kashipur, Udhamsinghnagar, Rishikesh, Nainital, Rudrapur, Dehradun, Pithoragarh, Rudraprayag, Champawat, Chamoli, Haridwar, Uttarkashi, Almora, Garhwal, etc. Tamil Nadu: Coimbatore, Chennai, Madurai, Tiruchirappalli, Tiruppur Uttar Pradesh: Kanpur, Lucknow, Ghaziabad, Allahabad, Bareilly, Aligarh, Gorakhpur, Varanasi, Moradabad, Rampur, Faizabad, etc.Punjab and Chandigarh: Amritsar, Jalandhar, Patiala, Haryana, Ludhiana Odisha: Bhubaneshwar, Cuttack, Madurai, Sundargarh Karnataka: Bengaluru Rajasthan: Jaipur and Some Other Cities/States:: Sikkim, Assam, Tripura, Daman and Diu, Jharkhand, Ranchi, Jammu and Kashmir, Srinagar Delhi, New Delhi, West Bengal, Kolkata, Darjeeling, New Jalpaiguri, Kerala, Kochi, Goa, etc.
In ABROAD- Venezuela, Saudi Arabia, Canada, Iran, Iraq, Kuwait, Russia, United Arab Emirates, Libya, Nigeria, United States, Kazakhstan, Qatar, China, Brazil, Algeria, Mexico, Angola, Ecuador, Azerbaijan, etc.
Nearly A decade of Excellence in Delivering Quality to the Customers.
ANDT was established by a team of eminent mechanical engineering experts with more than ten years of professional industrial experience with prominent industries of the power sector, pressure vessels, precision, and heavy engineering sectors, pipe systems, storage tanks, process plants, castings, forgings, fabrication, sugar, and cement industries, aerospace component manufacturing, material testing laboratories, consulting and NDT inspection companies.
For more details, you can contact on info@andt.co.in
To chat with us on Whatsapp, Click Here