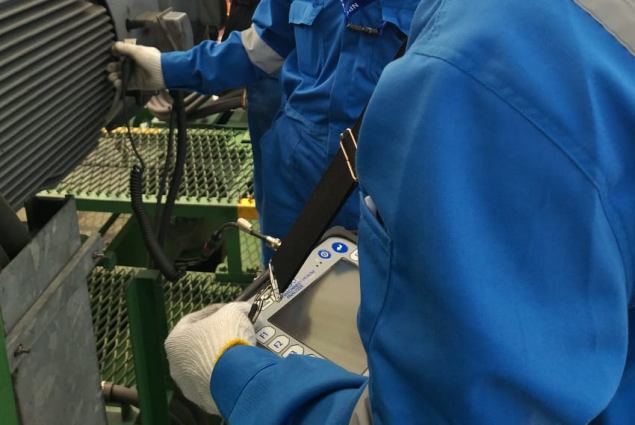 Magnetic Flux Leakage – (MFL)
Magnetic Flux Leakage is a Non-destructive testing method which is based on Magnetism and MFL is used to identify discontinuities like pitting and corrosion in tanks used for storage, structure of steel and in pipelines mostly. MFL works over the principle of magnetism that is created by strong magnets into the steel. As name MFL defines Magnetic Flux Leakages it means that discontinuity is identified where Magnetic flux leakage is observed. Inspector uses chart recordings to read and interpret and identify defected area and depth of metal loss by interpreting leakage field. As Magnetic Particle Testing is used to identify defect that is close to the surface or upto 0.6 inch under ideal condition, but this method MFL is more sensitive to defects in far surface with increased level of magnetization.
Advantages of Magnetic Flux Leakage
In carbon steel Magnetic Flux Leakage Testing is sensitive to pits.
MFL has very good sensitivity for pitting.
On fine tubes Magnetic Flux Leakage Testing can be used.
Speed of inspection is high in MFL.
Disadvantages of Magnetic Flux Leakage
This method cannot be used in nonferrous materials like Aluminum, Magnesium and many stainless steels.
MFL is very limited in sizing of defects.
Axial crack detection in MFL is very poor.
Signal sensitivity of MFL depends upon pull speed.
Know more about the upcoming training schedule, by clicking here.
NDT Level I Magnetic Flux Leakage (MFL) Syllabus
Disadvantages and advantages of MFL methods
Flux Leakage Theory
Properties of Metal and Magnetic Field
Magnetism with Electric Current
Hysteresis Loop
Flux Leakage Sensing Equipment
Identify hazards with MFT
Enhancing testing environments
Techniques for improving inspection skills
Factors affecting MFT measurement accuracy
Proper ways to carry out and conduct MFT methods
After successful completion of training, participants will be appearing for the Level I exam.
Participants will be certified as NDT MFT Level I after successfully clearing the exam.
NDT Level II Magnetic Flux Leakage (MFL) Syllabus
Identify minute hazards with MFT
Advanced Enhance testing environments
Advanced Techniques for improving inspection skills
Factors affecting MFT measurement accuracy
Coupling
Flux Leakage Field Application
Drill Tube Inspection
Tank Bottom Floor Inspection
Manufacturing Discontinuities
Manufacturing Discontinuities
Proper ways to carry out and conduct
After successful completion of training, participants will be appearing for the Level II exam.
Participants will be certified as NDT MFL Level II after successfully clearing the exam.
Check NDT Level 1 and Level 2 Fee Structure, by clicking here.
MFL LEVEL I & LEVEL II CERTIFICATION COURSE
A training institute that is profusely providing industry oriented technical education with live hands-on practical's sessions. Indian and International professionals prefer certification training program in Non-Destructive Testing at Advanced Institute of Non-destructive Testing & Training (ANDT), to create a bright future in Oil and Gas, Petroleum, Aircraft, Refinery, Airspace-ship and other mechanical industries, by availing the NDT Level II certification courses at ANDT either Online or Offline in branch offices ANDT Greater Noida, ANDT Mumbai and ANDT Hyderabad, India.
Aspiring participants get 100% Placement in India & Abroad after successful completion of the NDT Level II Training program.
Magnetic Flux Leakage Testing Syllabus is as per ASNT SNT TC 1A-2016 which trains participants so that they gain sound practical & theoretical knowledge to work under the supervision of NDT MFT Level III experts. It is required to have good health, positive mindset & technical skills to perform calibration and inspection as per written instruction under the supervision of NDT MFT Level III.
Eligibility for Magnetic Flux Leakage NDT Training Level I, II Certification Courses
Eligibility, qualification, and experience requirements as per the written recommended practice of SNT-TC-1A, 2016 Edition are given below.
Non-destructive testing courses are considered as the most valuable professional courses to improve individuals' skill sets and ladder for the steep career growth in quality control QA/QC functions in manufacturing and processing industries. These courses are especially considered as short term professional courses for any Mechanical, Metallurgical, Civil, Electrical, and other engineering professionals. Based on proficiency requirements, certification is offered for NDT level I, level II, and NDT level III. In order to be eligible for each NDT level, the individual should meet the required eligibility criteria.
Candidates interested in certification of non-destructive testing should have sufficient education, training, and experience to ensure eligibility in required NDT methods in which they are being considered. Candidates with diploma in Engineering or bachelor's degree in Engineering (Mechanical engineering, Metallurgy, Civil or any engineering) or bachelor's degree in math, science, or plus 2 / intermediate with math, science are eligible for the courses. Depending on the NDT level chosen, the method selected, candidates with other educational qualifications also are eligible provided if they can meet the following recommended criteria.
In addition, the candidate must meet the following other eligibility as per the written practice.
Near-vision acuity
Color contrast differentiation
​Codes and Standards used in Industry, by clicking here.
ANDT- Centre of Excellence in Inspection, Equipment, and Training
ANDT has 1000+ satisfied professionals and Clients in manufacturing, processing, in-service NDT inspection of nuclear, aerospace NDT, automobile components, castings, forgings, Welds, fabrication of structures, oil & gas exploration companies, petroleum refineries, shipbuilding, cross country pipeline constructions in India and abroad. 'ANDT' is recognized globally for its quality integrity services with technology-driven resources.
Our Certified Engineers & Imminent Clients are from-
In INDIA:- Maharashtra: Nagpur, Nashik, Thane, Washim, Pune, Ahmednagar, Solapur, Amravathi, Mumbai, Aurangabad, Kolhapur, Navi Mumbai, Dhule, Chandrapur, etc. Gujarat: Morbi, Porbandar, Surat, Godhra, Veraval, Gandhidham, Ahmedabad, Anand, Jamnagar, Vadodara, Navsari, Rajkot, Bhavnagar, Nadiad, Botad, Bharuch, Ankleshwar, etc. Madhya Pradesh: Singrauli, Morena, Burhanpur, Ratlam, Bhind, Sagar, Guna, Dewas, Satna, Jabalpur, Bhopal, Indore, Gwalior, Rewa, Shivpuri, Ujjain, Khandwa, Vidisha, Murwara, Chhindwara, etc. Andhra Pradesh: Guntur, Nellore, Chittoor, Rajahmundry, Anantapur, Kurnool, Khammam, Ongole, Proddatur, Adoni, Kadapa, Mahbubnagar, Tirupati, Karimnagar, Ramagundam, Warangal, Hyderabad, Madanapalle, Eluru, Vijayawada, Telangana, Visakhapatnam, etc. Uttarakhand: Bageshwar, Tehri-Garhwal, Roorkee, Kashipur, Udhamsinghnagar, Rishikesh, Nainital, Rudrapur, Dehradun, Pithoragarh, Rudraprayag, Champawat, Chamoli, Haridwar, Uttarkashi, Almora, Garhwal, etc. Tamil Nadu: Coimbatore, Chennai, Madurai, Tiruchirappalli, Tiruppur Uttar Pradesh: Kanpur, Lucknow, Ghaziabad, Allahabad, Bareilly, Aligarh, Gorakhpur, Varanasi, Moradabad, Rampur, Faizabad, etc.Punjab and Chandigarh: Amritsar, Jalandhar, Patiala, Haryana, Ludhiana Odisha: Bhubaneshwar, Cuttack, Madurai, Sundargarh Karnataka: Bengaluru Rajasthan: Jaipur and Some Other Cities/States:: Sikkim, Assam, Tripura, Daman and Diu, Jharkhand, Ranchi, Jammu and Kashmir, Srinagar Delhi, New Delhi, West Bengal, Kolkata, Darjeeling, New Jalpaiguri, Kerala, Kochi, Goa, etc.
In ABROAD- Venezuela, Saudi Arabia, Canada, Iran, Iraq, Kuwait, Russia, United Arab Emirates, Libya, Nigeria, United States, Kazakhstan, Qatar, China, Brazil, Algeria, Mexico, Angola, Ecuador, Azerbaijan, etc.
Nearly A decade of Excellence in Delivering Quality to the Customers.
ANDT was established by a team of eminent mechanical engineering experts with more than ten years of professional industrial experience with prominent industries of the power sector, pressure vessels, precision, and heavy engineering sectors, pipe systems, storage tanks, process plants, castings, forgings, fabrication, sugar, and cement industries, aerospace component manufacturing, material testing laboratories, consulting and NDT inspection companies.
For more details, you can contact on info@andt.co.in
To chat with us on Whatsapp, Click Here