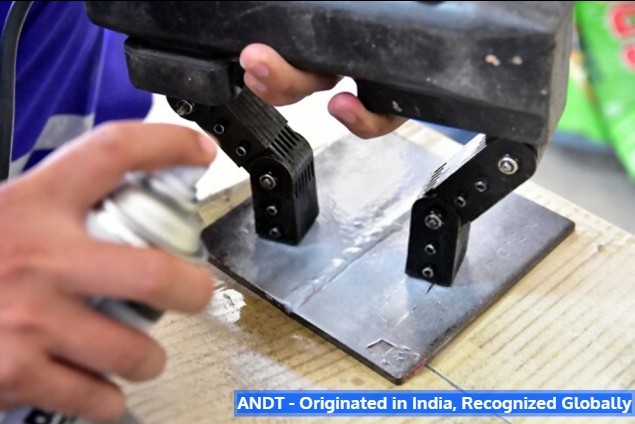 Magnetic Particle Inspection (MPI)
Magnetic Particle Inspection
Magnetic Particle Inspection (MPI) is an NDT method that can use magnetism to detect surface and subsurface discontinuities in ferromagnetic materials.
MPI is generally used to determine parts fitness for use. It is a relatively easy and quick method that is widely used in various sectors such as automotive, oil and gas, aerospace, petroleum power generation, etc.
This method detects surface or subsurface discontinuities such as cracks, porosity, laps, seams, inclusions in ferromagnetic materials. One of the major advantages of this method is, it is a relatively fast method and gives an immediate indication on the surface.
This method works by inducing the magnetic flux in the part to be tested. If any discontinuities or detect is present on the surface or near the surface the magnetic field distorts and leaks around the defect. By application of magnetic medium on the surface, the particles attract the area where flux leakage has occurred producing a visible indication of the defect. This indication can be evaluated by the operator any necessary measures are taken if any.


Our techniques for magnetic particle inspection include:
Yoke
Bench (for headshot direct induction)
Coil shot
Prods
Central conductor
ANDT has skilled NDT personnel that have gained years of experience in performing MPI and are Level 2 and 3 qualified with ASNT. We provide the testing both on-site at our customers' premises.
When selecting ANDT for your magnetic particle inspection (MPI) needs, you have an assurance that your maintenance schedules will be met and you will benefit from the expertise that our inspectors provide. Our reports will provide you with the necessary data to take preventive measures and will help in the management of assets.
For more details, you can contact on info@andt.co.in