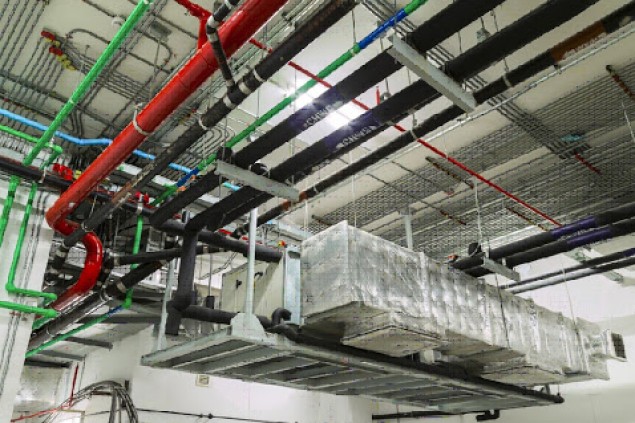 Autodesk Revit MEP is BIM (Building Information Modelling) is a software by Autodesk for a personnel's who work in MEP engineering. MEP is (Mechanical, Electrical and Plumbing) and these are addressed by Revit MEP. This software is used to streamline the engineering design process by making product design and development more efficient.
Course Objectives
This course helps students and professionals to develop, design, simulate, communicate in the software like Revit. The course helps the candidates to master technology enhancing their skills and productivity to a greater level.
Hence after completing the course student shall expect
Learning and developing better quality MEP systems

Enhanced visualisations of design and projects

Streamlining design process for better design communications

Learning to analyse building element energy, structural modeling, duct designing

HVAC/electrical design helps to see the room color-fill plans visually
Syllabus
Syllabus is designed in such a way that candidates can master their skills in Revit MEP using following modules.
Concept of BIM

Design of HVAC systems

Plumbing circuit design

Material Takeoffs

Fire protection systems

Plotting, creating sheets

Detection of clash

Energy Analysis

Mechanical System

Piping System

Electrical System

Documents and Coordination

Building Layout Preparation

Coordination
Revit MEP is a widely used software in various industries locally and internationally. This application is a powerful tool to create documents and parametric models. Hence having being used in various industries MEP certified engineers are always in high demand.
Professionals that are working in the design industry should aim for the course. The professional certification is an added value to the profile for an engineering candidate.
ANDT provides you with the opportunities for engineer and workers to develop skill in MEP and make carrier in projects like Residential, Commercial, Airport, schools, hospitals, malls, etc.
ANDT- Centre of Excellence in Inspection, Equipment, and Training
ANDT has 1000+ satisfied professionals and Clients in manufacturing, processing, in-service NDT inspection of nuclear, aerospace NDT, automobile components, castings, forgings, Welds, fabrication of structures, oil & gas exploration companies, petroleum refineries, shipbuilding, cross country pipeline constructions in India and abroad. 'ANDT' is recognized globally for its quality integrity services with technology-driven resources.
Our Certified Engineers & Imminent Clients are from-
In INDIA:- Maharashtra: Nagpur, Nashik, Thane, Washim, Pune, Ahmednagar, Solapur, Amravathi, Mumbai, Aurangabad, Kolhapur, Navi Mumbai, Dhule, Chandrapur, etc. Gujarat: Morbi, Porbandar, Surat, Godhra, Veraval, Gandhidham, Ahmedabad, Anand, Jamnagar, Vadodara, Navsari, Rajkot, Bhavnagar, Nadiad, Botad, Bharuch, Ankleshwar, etc. Madhya Pradesh: Singrauli, Morena, Burhanpur, Ratlam, Bhind, Sagar, Guna, Dewas, Satna, Jabalpur, Bhopal, Indore, Gwalior, Rewa, Shivpuri, Ujjain, Khandwa, Vidisha, Murwara, Chhindwara, etc. Andhra Pradesh: Guntur, Nellore, Chittoor, Rajahmundry, Anantapur, Kurnool, Khammam, Ongole, Proddatur, Adoni, Kadapa, Mahbubnagar, Tirupati, Karimnagar, Ramagundam, Warangal, Hyderabad, Madanapalle, Eluru, Vijayawada, Telangana, Visakhapatnam, etc. Uttarakhand: Bageshwar, Tehri-Garhwal, Roorkee, Kashipur, Udhamsinghnagar, Rishikesh, Nainital, Rudrapur, Dehradun, Pithoragarh, Rudraprayag, Champawat, Chamoli, Haridwar, Uttarkashi, Almora, Garhwal, etc. Tamil Nadu: Coimbatore, Chennai, Madurai, Tiruchirappalli, Tiruppur Uttar Pradesh: Kanpur, Lucknow, Ghaziabad, Allahabad, Bareilly, Aligarh, Gorakhpur, Varanasi, Moradabad, Rampur, Faizabad, etc.Punjab and Chandigarh: Amritsar, Jalandhar, Patiala, Haryana, Ludhiana Odisha: Bhubaneshwar, Cuttack, Madurai, Sundargarh Karnataka: Bengaluru Rajasthan: Jaipur and Some Other Cities/States:: Sikkim, Assam, Tripura, Daman and Diu, Jharkhand, Ranchi, Jammu and Kashmir, Srinagar Delhi, New Delhi, West Bengal, Kolkata, Darjeeling, New Jalpaiguri, Kerala, Kochi, Goa, etc.
In ABROAD- Venezuela, Saudi Arabia, Canada, Iran, Iraq, Kuwait, Russia, United Arab Emirates, Libya, Nigeria, United States, Kazakhstan, Qatar, China, Brazil, Algeria, Mexico, Angola, Ecuador, Azerbaijan, etc.
Nearly A decade of Excellence in Delivering Quality to the Customers.
ANDT was established by a team of eminent mechanical engineering experts with more than ten years of professional industrial experience with prominent industries of the power sector, pressure vessels, precision, and heavy engineering sectors, pipe systems, storage tanks, process plants, castings, forgings, fabrication, sugar, and cement industries, aerospace component manufacturing, material testing laboratories, consulting and NDT inspection companies.
For more details, you can contact on info@andt.co.in
To chat with us on Whatsapp, Click Here